Fare cards for mass transit system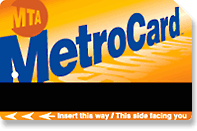 In January, 2003, Blonde Guy started working on the Fare card system for the New York City subway. The Metro Card was introduced in 1994, and is implemented on a network of machines. Blonde Guy is responsible for all OS/2 related aspects of the system.

The new station at the World Trade Center will connect the Port Authority Trans Hudson trains with the MTA subway system. Blonde Guy prepared a modified Station Controller to accept PATH fare cards for this new station.

The New York City Transit Authority wanted to add auditing capability to the Fare Card system to ensure correct accounting of the fares collected. Blonde Guy modified the Station Controller software to support this capability.

The NYCTA has a long list of system deviations, and Blonde Guy is correcting the deviations that concern OS/2 machines. Some of the deviations are on the Station Controller, and some on the machine that encodes the information on the magnetic stripe on the MetroCard.

The fare card for New York is called the MetroCard. Every transaction made by a MetroCard passes through an OS/2 machine at some point. Cash transactions pass through a second OS/2 machine which connects the bill-counting and coin-counting machines to the Area Controller.

The tools used to build the Fare card system are IBM C++ Set v2.01 and the OS/2 Developer's Toolkit version 2.1. The program is written in C. Some parts of the system are written in Gpf PM version 2.1.

Last Modified: 3 Jan 2013
Graphics by Colorful Language
Copyright 2013 by Blonde Guy