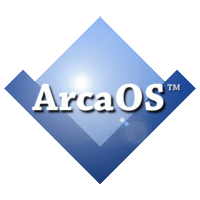 ArcaOS 5.0
ArcaOS 5.0, the long-awaited modern OS/2 distribution from Arca Noae, was released for general availability May 15, 2017.
ArcaOS 5.0 is available in personal and commercial editions, with the latter including prioritized support and a longer term of included maintenance and updates.
The personal edition is also offered at the discounted price of $99 per license until Aug 15, 2017, so take advantage of the savings during this introductory period. Personal edition licenses come with 6 months of support and maintenance and commercial licenses include a full year of support and maintenance.
The focus is on running a full OS/2 implementation on bare metal, not just in virtual machines, and towards that goal we have done a considerable amount of testing on popular, industry-standard hardware. Blonde Guy has been an active beta tester for Arca Noaet. Look at Blonde Guy's ArcaOS 5.0 preloaded computers for supported hardware.
ArcaOS 5.0 is available, now
ArcaOS 5.0 preloaded computers
Blonde Guy computers are designed to run ArcaOS 5.0. People who run OS/2 and eComStation programs will be able to buy a working computer without worrying about hardware compatibility or installing fixes, updates or general applications.
Each computer will be preloaded with ArcaOS 5.0, Suntan Special, OpenOffice.org and many other useful programs. Suntan Special provides updates to keep your system and applications up to date.
ArcaOS 5.0
ArcaOS is offered on DVD and download. Shipping is available worldwide. License and DVD are both part of the price.
System requirements
Here is a link to the Arca Noae system requirements.
Support Contract
Blonde Guy will offer a support contract for ArcaOS 5.0 that is intended for a small business. Consulting services are available now for large businesses.
Last Modified: 2 Jun 2017
Graphics by Colorful Language
Copyright 2017 by Blonde Guy