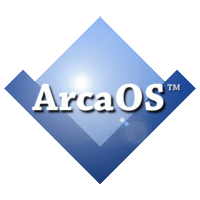 ArcaOS 5.0
ArcaOS 5.0, the long-awaited modern OS/2 distribution from Arca Noae, was released for general availability May 15, 2017. A patch release, ArcaOS 5.0.1 was released on July 9, 2017. ArcaOS 5.0.2 was released on February 10, 2018. ArcaOS 5.0.3 was released on August 19, 2018.
ArcaOS 5.0 is available in personal and commercial editions, with the latter including prioritized support and a longer term of included maintenance and updates.
Personal edition licenses come with 6 months of support and maintenance and commercial licenses include a full year of support and maintenance.
The focus is on running a full OS/2 implementation on bare metal, not just in virtual machines, and towards that goal we have done a considerable amount of testing on popular, industry-standard hardware. Blonde Guy has been an active beta tester for Arca Noae. Look at Blonde Guy's ArcaOS 5.0 preloaded computers for supported hardware.
ArcaOS Support & Maintenance subscription provides continued access to the bug tracker and any updates to 5.0.x which are released. In addition, any content available as part of the Drivers & Software subscription is also available as part of the ArcaOS Support & Maintenance subscription.
ArcaOS 5.0 preloaded computers
Blonde Guy computers are preloaded with ArcaOS 5.0, Suntan Special, OpenOffice.org and many other useful programs. Suntan Special provides updates to keep your system and applications up to date.
ArcaOS 5.0 preloaded computers Desktop and laptop computers pre-loaded with ArcaOS 5.0, OpenOffice and more.
ArcaOS 5.0
ArcaOS is offered three ways, on DVD, on USB Stick and by download. Shipping is available worldwide. License and DVD are both part of the price.
Beginning with ArcaOS 5.0.2, the installation program is available on a bootable USB stick. The ArcaOS USB stick can be used to install ArcaOS on computers with USB 2.0. The stick is also useful as an alternate boot for system maintenance on OS/2, eComStation and ArcaOS computers.
ArcaOS 5.0 DVD ArcaOS DVD for the English language.
ArcaOS 5.0 USB Stick ArcaOS USB Stick for the English language.
All ArcaOS 5.0 products Select from all ArcaOS products for the English language.
Support and Maintenance Subscription
ArcaOS personal comes with a six month Support and Maintenance subscription. ArcaOS commercial comes with a twelve month subscription.
After you buy ArcaOS, your continued use of the Arca Noae website is dependent on your Support and Maintenance Subscription. This is a summary of what happens when a subscription expires:
Any installed Arca Noae drivers and software continue to function normally (including ArcaOS).
Any drivers and software which have already been downloaded may be installed and will function normally (including ArcaOS).
All free Arca Noae RPM repositories continue to work.
Free downloads from the Arca Noae site will remain accessible.
An expired subscription cannot be renewed. You must buy a new subscription if yours expires.
An expired subscription will not have any downloads available.
Any subscription-only Arca Noae RPM repositories will not be accessible.
Bug tracker will not be available.
ArcaOS Support & Maintenance subscription Order form for a 12 month Support & Maintenance subscription.
The following conditions apply:
If ordered before the current expiration of support, then a 10 % discount applies.
One day late, and no discount applies.
The ArcaOS license and the software and maintenance license must match. That is a commercial subscription must be applied to a commercial license.
If you have multiple licenses for ArcaOS, then you must order the same number of subscriptions.
If you know it, please enter the order number of your ArcaOS license.
More Information
More information about ArcaOS
I've collected some information about ArcaOS to help prospective users.
System requirements
Here is a link to the Arca Noae system requirements.
ArcaOS 5.0 system requirements
Support Contract
Blonde Guy will offer a support contract for ArcaOS 5.0 that is intended for a small business.
Consulting services are available now for large businesses.
Export restrictions
Blonde Guy may sell to any customer worldwide except where prohibited by applicable laws, and excluding the following countries: Abu Dhabi, Algeria, Bahrain, Belize, Costa Rica, Dominican, Republic, Dubai, El Salvador, Guatemala, Haiti, Honduras, Kuwait, Nicaragua, Oman, Panama, Qatar, Saudi Arabia, Tunisia.
Last Modified: 19 Mar 2019
Graphics by Colorful Language
Copyright 2019 by Blonde Guy